Make Detox Water at home
Boost Hydration & Health
Infuse Your Water with Nature's Goodness!
Did you know that detox water is a simple way to improve your hydration and health? Elevate your daily water routine with the simplicity of infusing fruits and herbs into your glass. It's not just water; it's a celebration of your well-being.
Let us walk you through the world of detox water with tips, tricks, and fruit infused water recipes.
Not only are infusions beautiful to look at, they also make your water taste better with the added health benefits of fruit infusion.
Customize your detox water based on the flavors and nutrients you're looking to add to your day!


a Refreshing Twist to Your Hydration
What are the Health Benefits of Fruit Infused Water?
Infusing water with fruits and herbs unlocks essential vitamins and antioxidants, supporting your immune system.
Natural flavors make drinking water a delight, encouraging you to stay hydrated. Leading to improved energy, brain function, blood pressure, weight loss, and physical performance.
Detox water serves as an excellent substitute for sugary drinks like soda and juice. Perfect for those aiming for a healthier lifestyle without compromising on taste.
Enhance skin glow by keeping your body in well hydrated. Achieve that radiant complexion from within.
Effortlessly flush toxins and support your body's natural detoxification process with every sip.
How to Make Fruit Infused Water?
Fruit infused water is easy to make at home. You can create your own mix or use one of the many recipes online. All you need is water, your preferred fruit, vegetables, and/or herbs and a bit of patience. It is recommended to let your water infuse for 1-2 hours before consuming to get the full range of benefits.

Want to keep it simple? start with infusing just one ingredient! (or consider mixing two or three)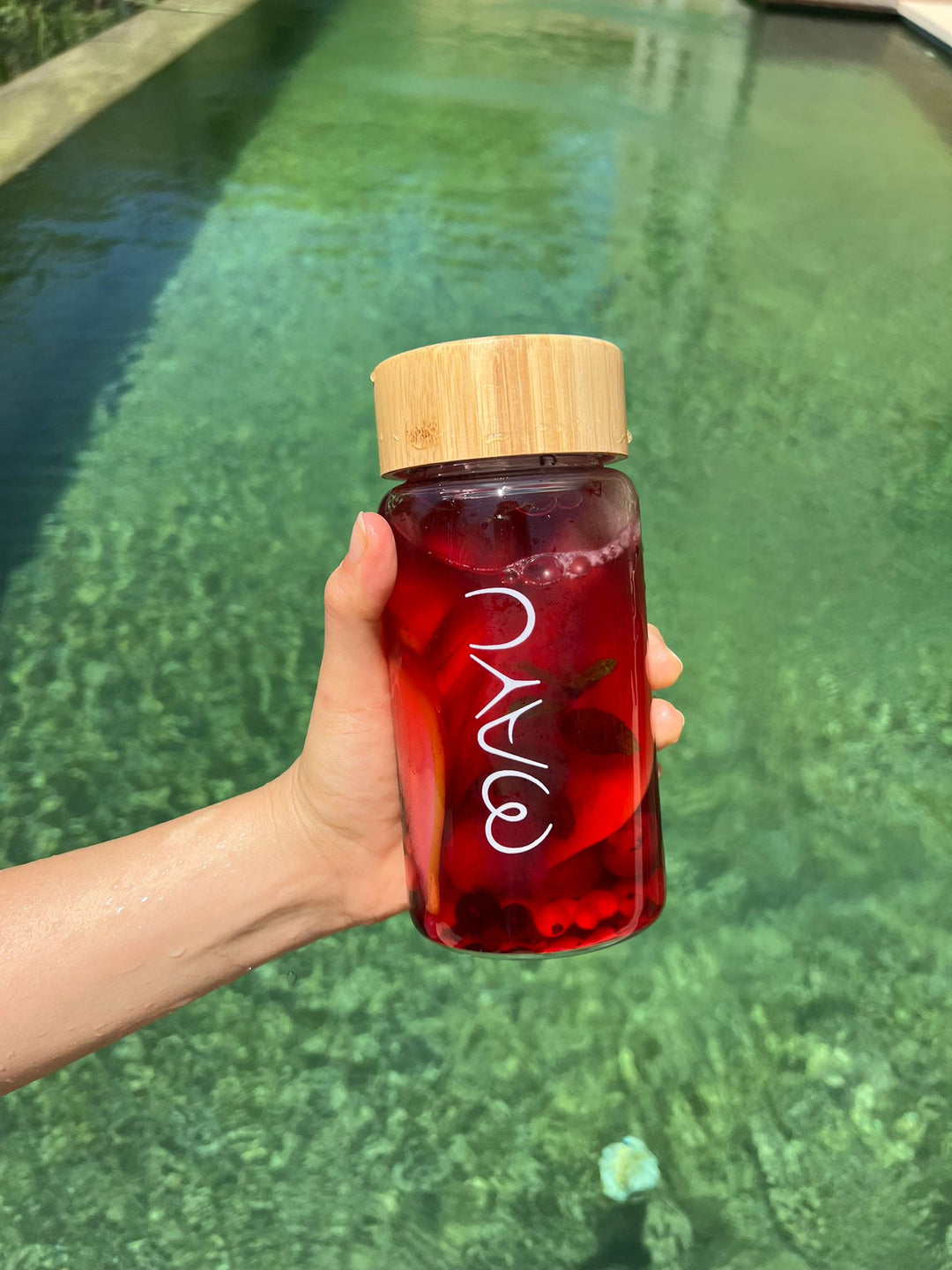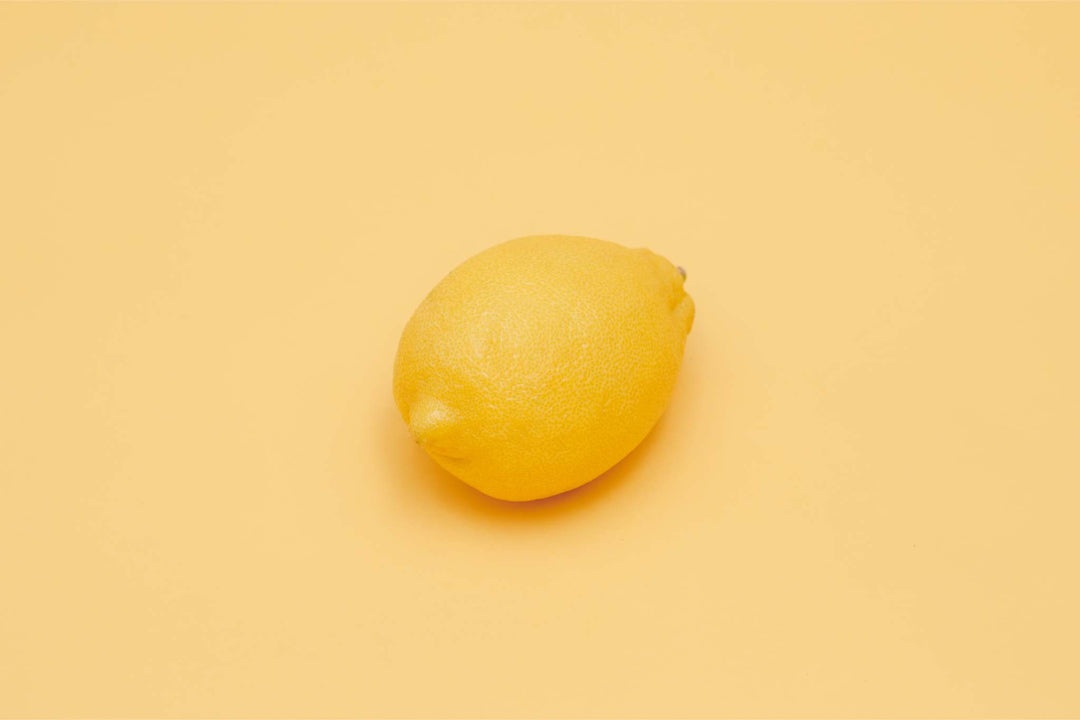 Lemon 
Ingredients:
½ lemon
How to prepare:
First cut the lemon into small slices, put them into your bottle or pitcher and fill with water. Place in your fridge and let infuse for 3-6 hours. Serve chilled.
Benefits:
Lemons are great for aiding digestion and are high in antioxidants. A glass of lemon water in the morning is maybe the best way to wake your body up and start the day.
Mint Leaves
Ingredients:
6 mint leaves
How to prepare:
Place the mint leaves into your bottle or pitcher and fill with water. Place in your fridge and let infuse for 2-4 hours. You can drink mint water cold or hot.
Benefits:Mint leaves are known to assist with digestive health. Even more, mint's strong scent can improve energy and brain function.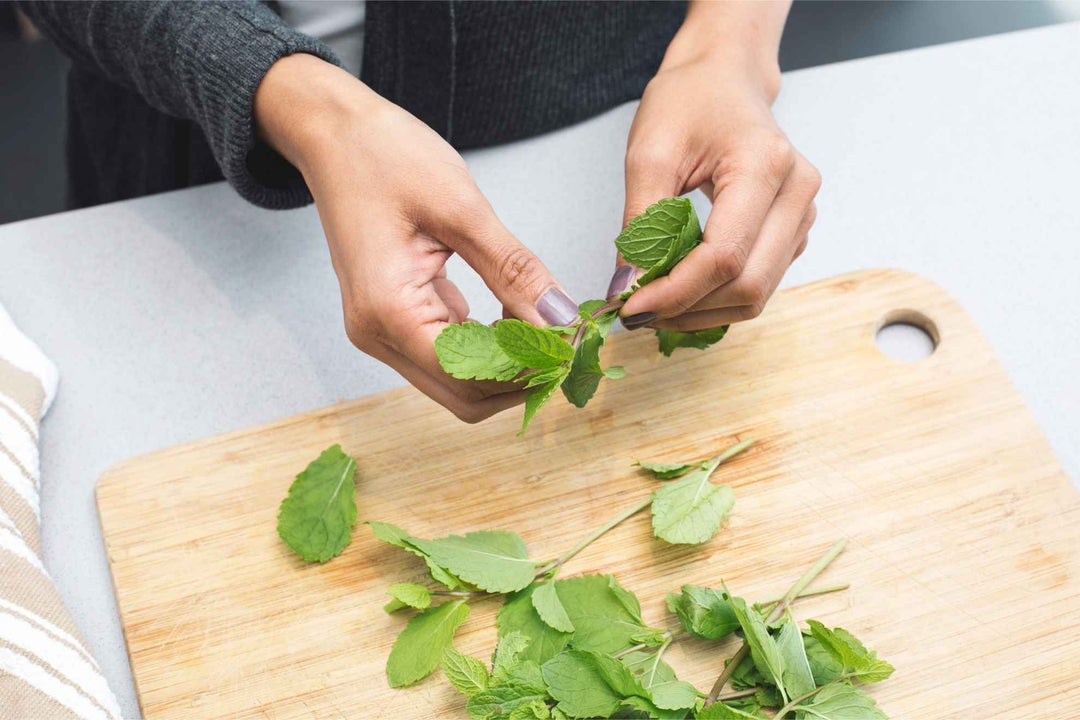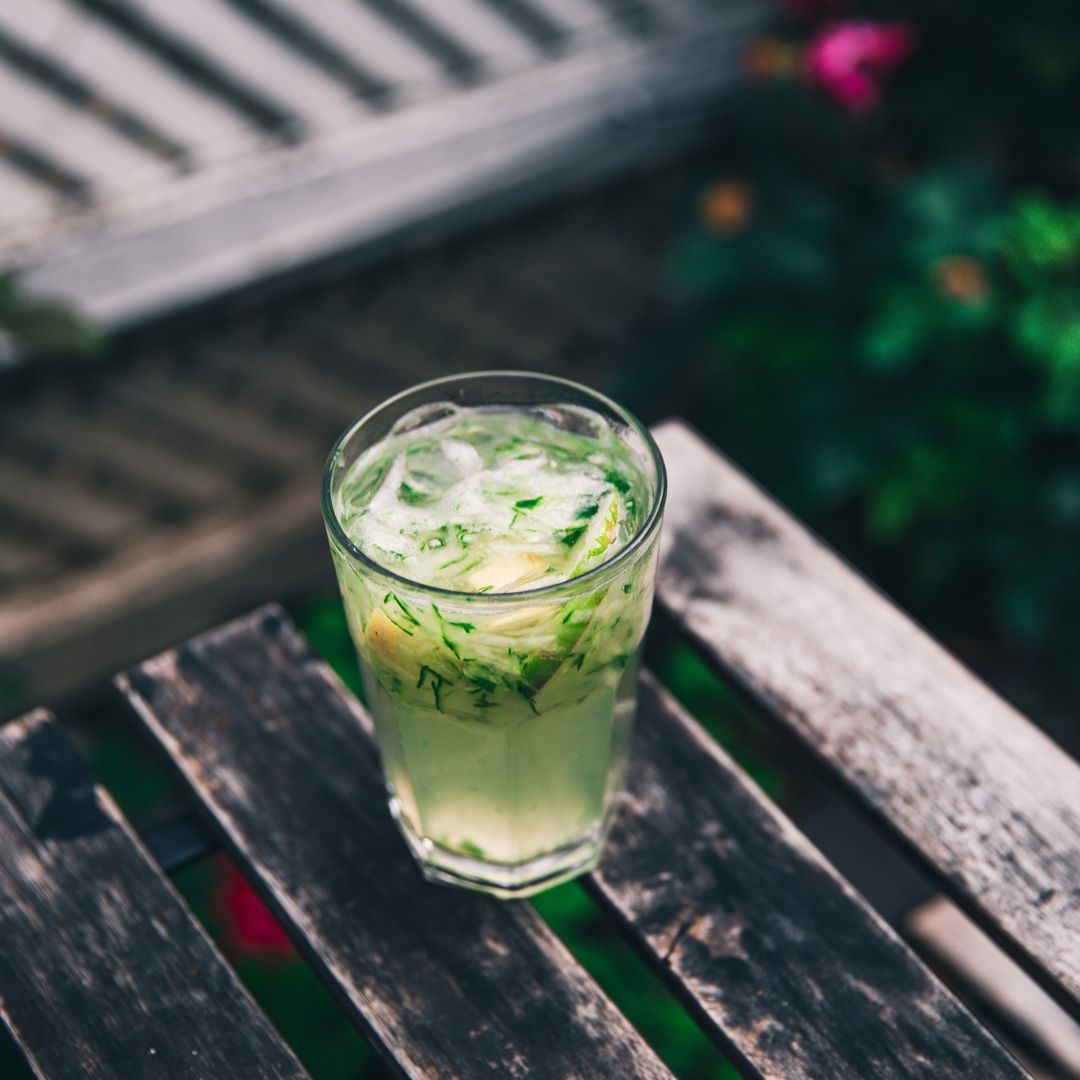 Cucumber water
Ingredients:
½ cucumber, sliced
How to prepare:
Place the sliced cucumber first and fill with water. Let it infuse in the fridge for 1-3 hours. Serve chilled.
Benefits:Given their electrolyte content, Cucumber water are a great way to enrich your water with electrolytes, especially during hot weather or after a workout. Cucumbers are a good source of potassium, an electrolyte that helps regulate the amount of sodium retained by the kidneys, potentially helping to lower your blood pressure. They also offer a light refreshing flavor to your water. Check out this is video 
Make a splash
Ginger water
Ingredients:
2-3 thin slices of Ginger 
How to prepare:
Ginger water can be made cold or hot. Place the sliced ginger into a cup, bottle or pitcher and fill with water.
Benefits: 
Ginger water is an easy way to get the health benefits of this spice. The phosphorus, potassium, magnesium and antioxidant properties of ginger can:
Significantly provides relief in vomiting, nausea and digestion.
Improved fasting blood sugar in people with diabetes. 
Help in preventing heart disease and neurodegenerative diseases.
Slow down symptoms of aging
Prevent or slow down kidney failure.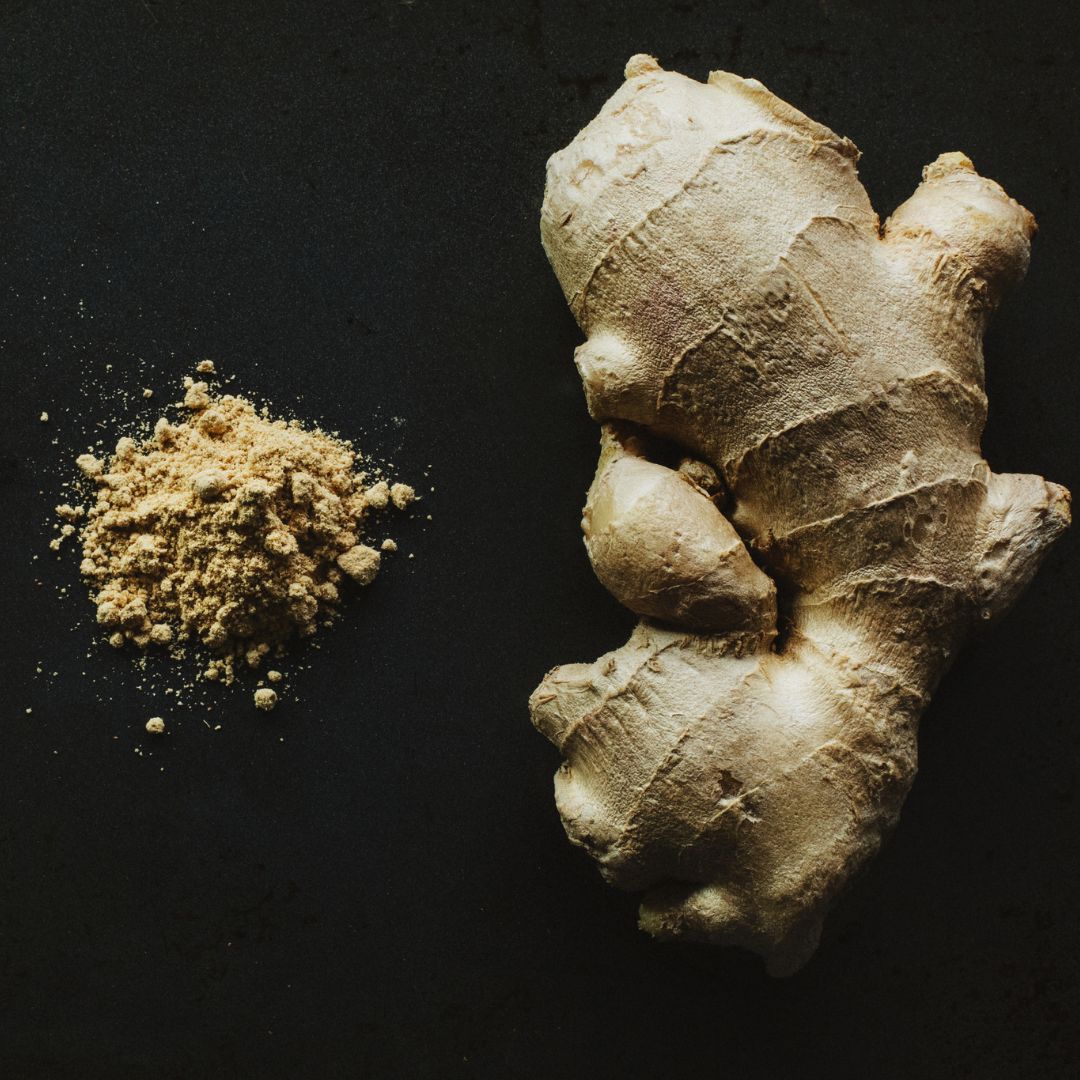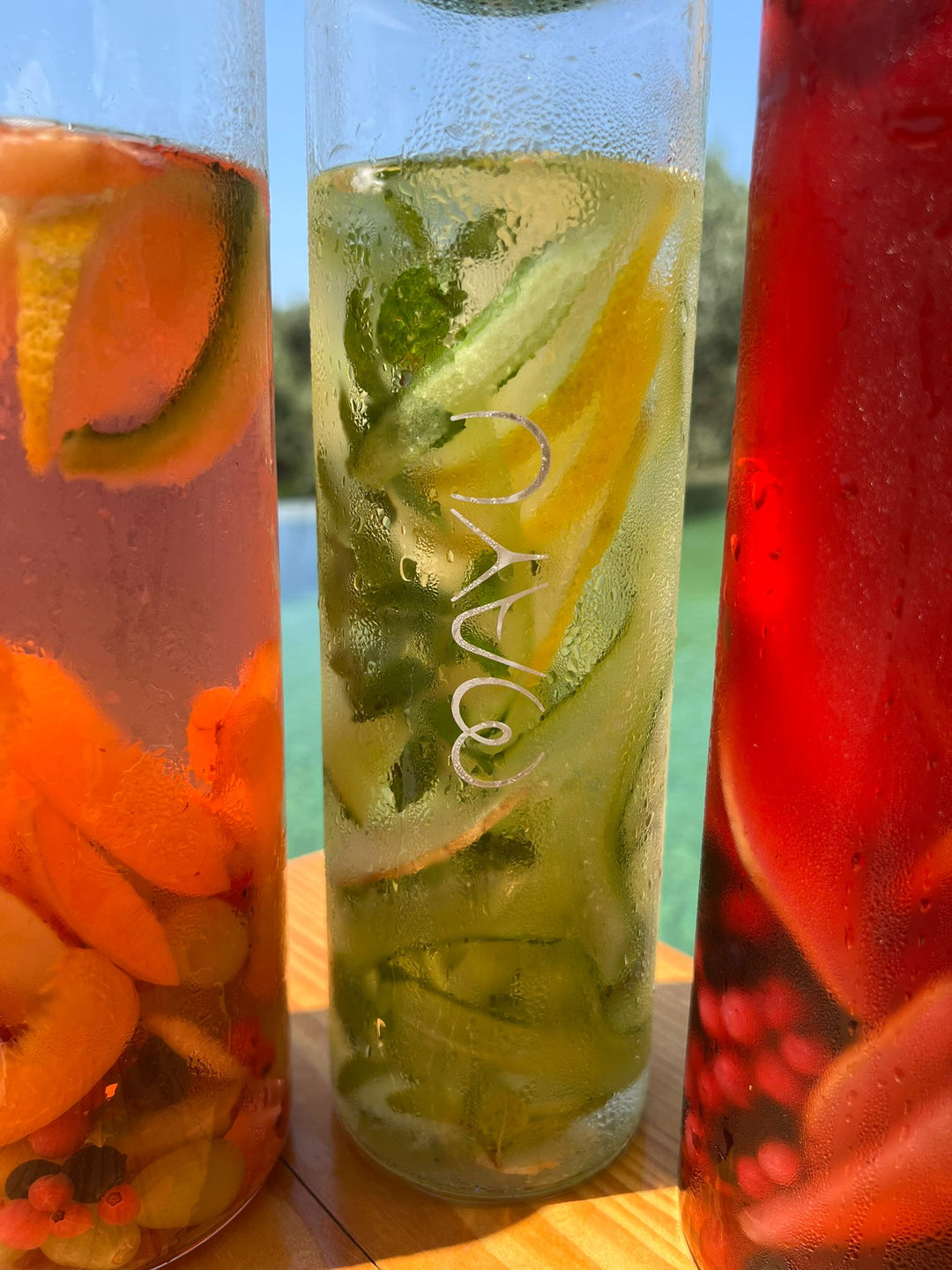 Detox Water Tips
Fruit can stay in the water for up to 12 hours.
You can prolong the life of your infused water by removing the fruit after 4-6 hours of infusing. Your detox water can last up to 3 days in the fridge once the fruit is removed.
Refill your pitcher or bottle when it's half empty to preserve the infusion flavor. This prevents having to wait 1-2 hours for the water to infuse if it were to be refilled when empty.
Make water infusion even easier by pre-making infused ice cubes. Freeze leftover fruits, vegetables, herbs, and water in an ice cube tray to add to your water at any time.
Don't waste the fruit! Feel free to eat the fruit once you run out of water.
Use a glass bottle with a strainer for easy infused water making 
make every sip a step towards a healthier, happier you.
Ready to take the leap? we have a handful of fruit infuser water bottles available for easy at-home detox water recipes.