The power of vortex
what is structured water?
Structured water, also known as living water, is very similar, if not the same, as pure, untouched, and uncontaminated water found in glacier melts and natural springs. 
Water was meant to move. And when it stands still in the pipes, it loses the energy your body needs for complete cellular hydration. MAYU Swirl's whirlpool motion recaptures lost vitality by infusing oxygen to balance, alkalize, and restore your water's true taste and texture — just 6,000 times faster. 
The swirling motion aerates the water and infuses fresh oxygen into it.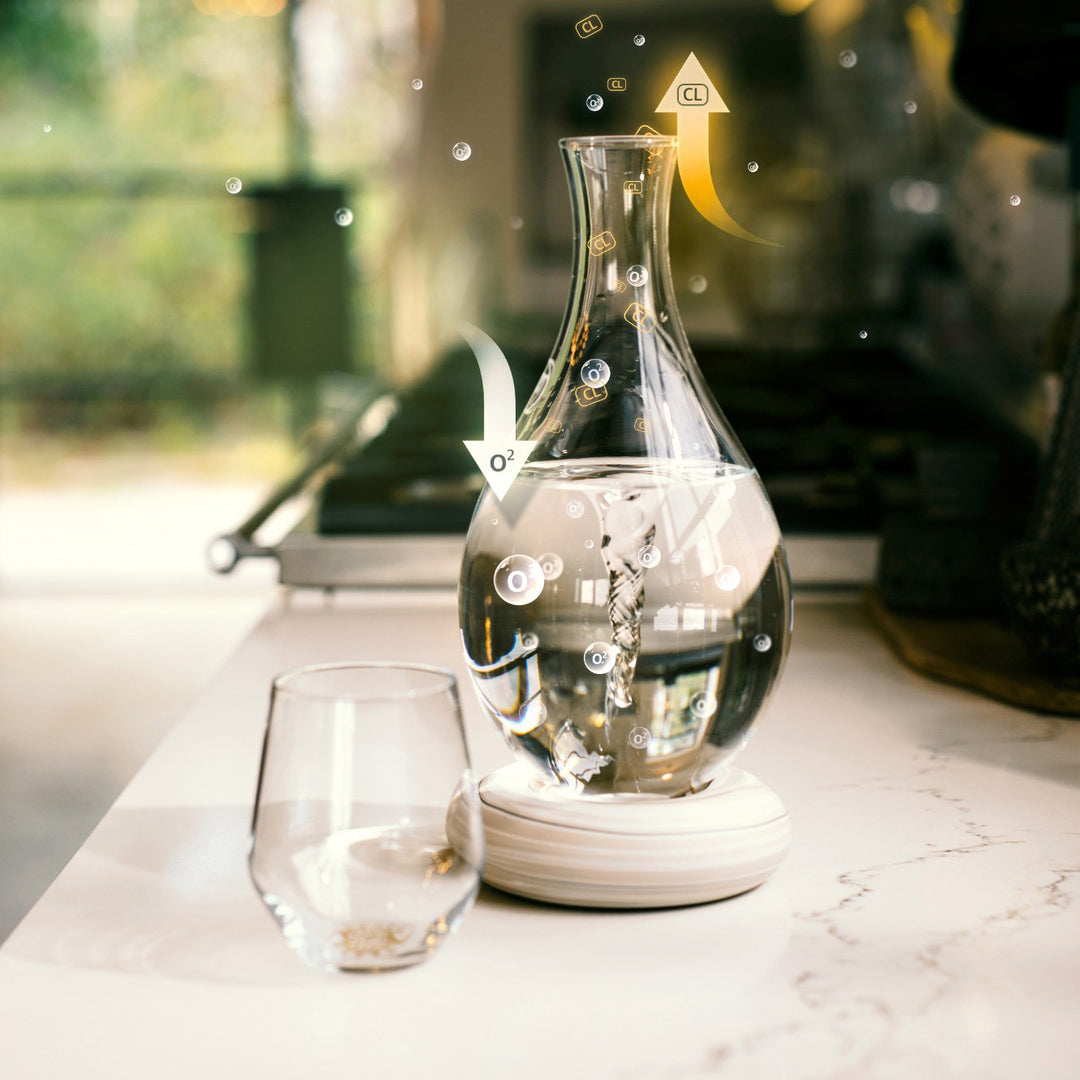 Oxygen in, volatiles out
BACKED BY SCIENCE
Structured water molecules form a hexagonal cluster. Structured or hexagonal water has a chemical formula of H3O2, meaning it has three hydrogen molecules combined with two oxygen molecules — different from the "normal" H2O formula, which contains two hydrogen and one oxygen molecule.

Structured water can be consumed for heightened energy levels and improved cellular absorption, delivering a rejuvenating and revitalizing experience unlike anything else.
WATER, UPGRADED
HOW DOES MAYU SWIRL WORK?
MAYU Swirl's porcelain base is the vortex generator that oxygenates water to restore its optimal structure and rejuvenate its silky texture and sweetness. It uses solid-state load cells that sense the presence of the carafe in order to begin the swirling motion automatically; in turn, it calibrates the strength and speed of the aerator disc, according to the amount of water in the carafe, thus creating a constant and perfect vortex.
This innovative vortex technology rebalances the water's pH levels, oxygen, and prevents the growth of bacteria, restructuring the water for superior hydration.
Swirl for 7 minutes with the lid off to return your water to its natural sweet, silky mouthfeel and healthy equilibrium.